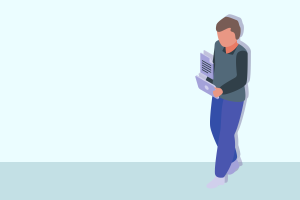 For many businesses, not having an eSignature solution is no longer an option. Not only do customers expect the convenience and speed of eSignature, but it allows your business to be operational when in-person services are unavailable.  
While you might be sold on eSignature as a technology, there are a lot of options out there – and that can be overwhelming.  
So how do you choose an option that is the best for your business? In this article, we offer some advice.  
Don't settle
When confronted with many options, it can be tempting to settle for an easy first option. We highly recommend you shop around and investigate your options with several providers.  
It will save your business time and money to find the vendor that best meets your organization's specific needs.  
eSignature priorities
When searching for an eSignature provider, there are specific priorities you should keep in mind. These include: 
Flexibility

 

Security and authentication

 

Branding

 

Ease of use

 

Integration with your existing software

 

Vendor support 

 
Flexibility
Some eSignature contracts will lock you into a certain number of envelopes each pay period, with strict fees for overages. Depending on your business' growth trajectory, that could end up hurting you. It may not be a good idea to lock yourself into a conservative number.  
Likewise, you are going to want to make sure the solution you choose has all the options you need to reach your customers. Flexibility of deployment, and of the ways your customers can access documents, from device compatibility to application requirements, is going to be important for the overall convenience and value of the service.  
Moreover, if your business has customers across the globe, you will need to ensure your provider supports global functionality and potentially signing capabilities in multiple languages.  
Security and authentication 
One of the differences between eSignature and traditional wet signature methods, is that you're not seeing the signer sign the document. So, there is some possibility of fraud.  
However, most providers have built-in methods to protect against fraud, including authentication protocols before your customer can sign. In today's day and age, it's important to choose a vendor that supports proper authentication methods, to protect your customers and your business.  
Branding
It's important that the documents you send are identifiably branded. If your documents cannot be customized to reflect your brand, you're risking increased abandonment rates and decreased customer trust.  
Overall, professionalism and brand integrity during the eSignature process will help close more deals and build customer trust.  
Ease of Use
Your eSignature services are hardly worth the money if your customers struggle or fail to understand how to use them. A good eSignature solution should be simple, accessible, and quick for your customers.  
Likewise, it should be easy for your employees to learn how to manage and deploy. If your eSignature solution isn't making your workflow faster and more efficient, it isn't worth it.  
Integration with your existing software
Your business likely uses software for your day-to-day operations that you rely on. Whether that be Outlook, Adobe, or another program. It's important your eSignature solution integrates seamlessly with this software, so your operational processes aren't impacted upon adoption.  
Vendor support
When you're shopping around for your eSignature provider, see what kind of ongoing support they offer their clients.  
A vendor who offers friendly and quick customer support services will be well worth your investment in the case there's ever an issue. Being able to get help on the line to resolve any problem that might be occurring could save a deal, improve your customers' experience, and make sure nothing is being missed in an important process.  
What else matters to you?
Of course, this is just a list of some of the top priorities to consider when looking for an eSignature solution. Your business is also going to have unique needs that must be met. Be sure to address those with every vendor you talk to.  
The eSignature market is still young and dynamic – while some of its growth has stagnated since the height of the COVID-19 pandemic, there are still many providers and many options available for your business. Needless to say, as we move further into the digital age, there will be more and more options to choose from, as well.  
Related articles: