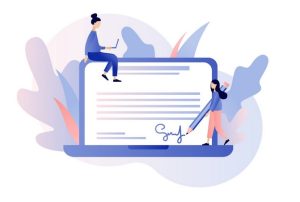 After a period of wild growth beginning with the COVID-19 pandemic in 2020, eSignature companies are seeing a sharp drop in revenue as workplace habits begin to return to normalcy.  
What does a decrease in sales and stock value mean for the future of eSignature providers and the technology as a whole? In this article, we take a look at just that.  
The eSignature market experienced rapid growth in 2020. 
The sudden onset of social distancing and work-from-home mandates meant in-person interactions nearly disappeared for parts of 2020. Suddenly, companies that offered virtual and hybrid working solutions found their place in the market go from forward-thinking to vital necessity for many businesses. 
Companies like Zoom, WebEx, and more have unsurprisingly found success in this climate. eSignature providers are no exception. In fact, the number of businesses using eSignature has increased by 50% since the outbreak of COVID-19.  
The curious case of DocuSign.  
In early December, eSignature provider DocuSign Inc. announced a dramatic fall after a year and a half of considerable success.  
As reported by Bloomberg, on December 2nd, 2021, DocuSign "tumbled 30% in extended trading… after the e-signature company's quarterly revenue forecast missed analysts' estimates." 
"After six quarters of accelerated growth, we saw customers return to more normalized buying patterns," DocuSign CEO Dan Springer said in a statement. 
To put that in perspective, the company tripled in value in 2020, but grew only 5.2% in total over 2021, after the recent fall.  
DocuSign isn't alone.  
DocuSign isn't the only Software as a Service (SaaS) company to experience a dramatic dip in December. Adobe Inc. shares also sank to their worst performance in over 20 months on December 3rd, immediately following the DocuSign news.  
MarketWatch reported "Adobe's stock fell 8.2% (on December 3rd), its steepest single-day percentage drop since March 2020… The move wiped away $26.3 billion in market capitalization, taking Adobe's valuation lower than $300 billion."  
This drop is surprising for Adobe because, unlike DocuSign, their suite of products is more comprehensive than eSignature technology. Analysts have chalked this up to a "knee-jerk reaction" to DocuSign's own recent devaluation.  
What does this mean? 
DocuSign's unfortunate Q3 results offer some interesting consumer insights. We spoke with Schooley Mitchell's Manager of Research and Development, Greg Kelly, for his thoughts.  
"I've done some further reading since I first heard the news about DocuSign's stocks decreasing. Of course, I don't want any vendor to fail and cause loss of service, but it is interesting to see how they are trending after the pandemic." Kelly said.  
"Businesses aren't buying on reaction anymore. With transitions to remote work, there were many holes in workflows that were quickly fixed by purchasing software including DocuSign. DocuSign is still a great solution, but they are projecting less revenue. To me, that means many businesses are set up with the necessary remote work software and are cancelling services that are over-priced or unneeded – or they're simply putting more thought into their workflow processes before fear-buying a new software." 
"In these situations, changes to the service are inevitable as they try to regain lost revenue. Whether that comes as a new feature launch or a promo push to sign-up new customers, it will be a perfect time to negotiate rates and review current service levels."  
The future of work-from-home software.  
As Kelly suggests, this is hardly the end for virtual and hybrid-focused SaaS providers.  
Not only has the pandemic caused businesses of all sizes to reconsider the future of the office, and rapidly adopt more hybrid solutions, but the need for fully virtual solutions isn't going away. With new variants and an unpredictable future, pandemic-related work-from-home situations are still commonplace in office culture.  
While work-from-home products and companies might not see the same consistent quarterly growth as they did in 2020 and early 2021, their products are still widely used, needed, and opportune for innovation.  
In conclusion… 
While eSignature providers such as DocuSign and Adobe saw rough Q3 valuation, this is more a sign of a period of change in the industry than an end to its success. As 2022 progresses, we are likely to see new products and services that will make virtual and hybrid work easier than ever.  
Related articles: