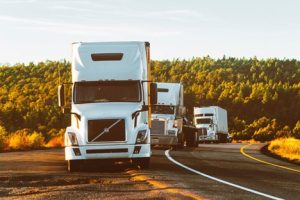 In the United States, the roll out of 5G networks and compatible devices is ushering in a new generation of technology. For businesses that manage fleets, this shift is leading to potential compliance complications with the Federal Motor Carrier Safety Administration (FMCSA). In this article, we take a look at why.
Many electronic logging devices (ELDs) run on 3G.
As per the FMSCA, many fleets must follow the federal regulations calling for the use of ELDs. An ELD is a piece of electronic hardware attached to a commercial vehicle engine to record statistics such as driving hours, odometer readings, and engine power-up.
All commercial vehicles – defined as a vehicle that is a truck, tractor, trailer or any combination of them that has a registered gross vehicle weight in excess of 4500 kg or a bus that is designed and constructed to have designed seating capacity of more than 10 persons, including the driver – must use an ELD.
In compliance with the law:
Roadside inspectors may ask for an ELD record to be emailed to a supplied address.
ELDs must have an onscreen display to show inspectors at roadside.
Fleet compliance must have real time access to the ELD data.
ELDs must provide GPS tracking and capture drive time automatically.
Due to the nature of these devices, they rely on network connectivity. Many of them are 3G compatible. With 3G being phased out, this leaves many fleet managers in a time crunch to replace their fleets' tech.
This must be done in the next calendar year.
On November 19th, 2021, FMCSA issued a reminder for commercial fleet managers to replace or upgrade 3G-reliant ELDs.
Over the course of 2022, all major American carriers will be ending their 3G networks. The shutdown dates are:
AT&T: Feb. 22, 2022
Sprint (T-Mobile): March 31, 2022
Sprint LTE (T-Mobile): June 30, 2022
T-Mobile: July 1, 2022
Verizon: Dec. 31, 2022
"Once a 3G network is no longer supported, it is highly unlikely that any ELDs that rely on that network will be able to meet the minimum requirements established by the ELD technical specifications, including recording all required data elements and transferring ELD output files," said the FMCSA statement.
For companies managing a fleet, this means the date you need to replace or upgrade by is entirely reliant on what provider you are currently using.
What can fleet managers do?
Don't panic. If you're not sure if you have to replace your ELD, or whether or not it works on a 3G network, the first thing to do is contact your ELD's provider. There is a chance your device runs on 4G, in which case no action is needed on your part.
If you find your devices do rely on 3G, ask your provider what their plans are for upgrading or replacing devices, and how they can complete the necessary actions as soon as possible. It is very important for businesses reliant on this technology to take these steps promptly, to avoid reaching the end of 3G support and risking downtime or possible non-compliance.
According to trucknews.com, "If an ELD stops working in the U.S., a carrier has eight days to replace the ELD, unless an extension is granted".
Not all 3G supported ELDs are out.
Not all devices will be dysfunctional without 3G. Some of the older 3G compatible models by Isaac, for example, are supported via local WiFi inside the truck itself.
If your device operates like this, make sure it follows all the FMCSA regulations before making a decision to upgrade it or not.
What about Canadian trucks?
Trucks operating only within Canada do not face the same deadline as U.S fleets; however, border crossing trucks that rely on 3G connectivity will need to upgrade.
Canada's ruling on ELDs won't come into effect until June 12th 2022, but commercial vehicles travelling continent-wide still must comply with U.S. laws. For these fleets, it will be important to contact your provider and make sure that your device is up to U.S standards, or find a solution that will be by the respective cut off dates.
Supply chain issues are an obstacle.
One reason for both Canadian and American fleets to get a head start on upgrading ELDs is the supply chain crisis. Component shortages – especially computer chip shortages – could leave fleets that wait until the last minute to upgrade temporarily out of compliance or out of commission.
In conclusion…
3G is being phased out in the U.S, and this could have some big ramifications for commercial trucking fleets whose devices run on 3G networks. Sooner rather than later, it's important to review your ELD environment, and make sure your devices are up to regulations.
Related articles: