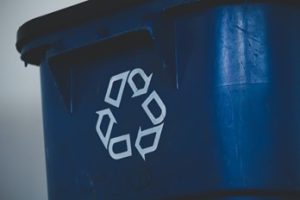 Does your business recycle? Although this has been common practice in residential homes since the Great Depression, many businesses do not have the knowledge or incentive to properly recycle some of the waste they generate. So, what is the incentive? Can recycling save you money?
Part five of Schooley Mitchell's five-part series.
Over the past few months, we have looked at the cost of waste across several industries. Business waste disposal comes with a hefty cost to your bottom line, as well as the environment. In the final issue of this series, we look at one of the biggest strategies to reduce waste: recycling.
Can recycling save your business money?
The best way to reduce waste disposal expenses is to simply reduce waste. For many businesses, reducing paper and purchasing reusable materials can eliminate a significant source of waste, regardless of whether that waste is being recycled or headed to a landfill.
In areas where you cannot eliminate waste, commercial recycling is a viable alternative. Recycling reduces transfer and landfill costs associated with waste disposal. Separating the relevant materials into recycling bins also reduces the frequency of garbage collections.
According to sanitation solutions provider Clean River, companies can see annual savings of up to $4,000 by just making the transition to recycling their cardboard and paper waste.
Likewise, depending on where in North America you are located and what kind of organization you are, there may be grants to help you establish a recycling program, making the transition even more cost effective.
Some recyclables can be sold.
Contractors, construction companies, manufacturers, and other businesses that generate recyclables like scrap metal can sell these materials and earn back some of the money that would have otherwise gone to waste generation.
So how do you start a commercial recycling program?
If you're looking to save money on waste disposal by starting a commercial recycling program, here are some tips for planning internally:
Assess your office's recycling needs – how many work spaces or lunch rooms will need recycling bins?
Assess your materials – are you recycling mainly paper and cardboard, or will you also need to account for plastic bottles and containers?
Will you want to include an option for organic waste?
Plan for one recycling bin per 50-75 people, depending on staff density. High traffic areas may need more.
Plan for an outdoor bin if you have outdoor spaces where staff or visitors congregate.
What does your current waste management schedule look like? If you have less frequent bin emptying, you may need more bins than if they're emptied daily.
You will also want to look externally to your waste hauler. Some haulers aren't set up to collect all waste streams, but others won't charge for recycling, or may even give you a rebate. Explore your options, and if necessary, work with a third-party expert who can help find you the best solutions.
What about composting?
If your workplace generates a substantial amount of organic waste, it may also be worth looking into a commercial/industrial composting solution. Commercial or industrial composters often collect compostable materials directly from your business and then use the latest technologies to put this to good use.
In conclusion, don't let waste expenses eat into your profits.
Over the past five issues, we have investigated various sources and solutions of commercial waste, as well as the heavy cost associated with it. While waste costs can be overwhelming, there are ways to reduce and manage the impact they have on your bottom line.
If you think you're spending more than you need to, contact an expert who will help you optimize your waste disposal process and bill.
Related articles: