Slowly but surely, landline phone systems are being replaced. In some parts of the world, like the United Kingdom, there are even plans to phase them out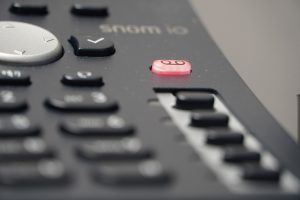 entirely by the end of the decade. If your business still uses a landline — even if it's worked great for you so far — there is a good chance you'll feel the pressure from your vendors to move to a different voice system soon. 
One of the many available options is a VoIP (Voice over Internet Protocol) phone system. It might sound daunting to make the switch to a system that is out of your comfort zone. The best thing you can do is arm yourself with knowledge beforehand.  
So what is VoIP?  
VoIP allows your team to make phone calls using an internet connect as opposed to phone lines. It can be transmitted through a traditional, physical phone alongside a VoIP adapter, or software, downloaded onto a computer or smartphone. There are also dedicated VoIP phones that look just like a traditional analog phone, but are designed specifically for this technology.  
You've probably encountered a VoIP phone call before, even if you didn't recognize it. If you have ever called a customer support line with an automated directory, such as a bank, chances are good that you connected with their VoIP line. This and a whole host of other features is what makes VoIP really attractive to many businesses.  
Why make the switch?  
One of the main reasons to make the switch to VoIP is the low cost. VoIP calls are made over the internet, meaning that you're paying for internet service, as well as the software and hardware, and not telephone service fees. Especially when it comes to long distance calling or international calling, this can save you a lot of money.  
While social distancing, VoIP is also a much more practical solution for remote workers. Why pay to install a landline in an employee's home when you could put a soft phone app on their computer?  
Typically, VoIP phone systems offer more features than landline systems as well. From automated directories to call recording to voice to email services, VoIP comes with a handful of perks that can make your busy work schedule a bit easier.  
In an increasingly digitized world, VoIP phone systems have come to be the expected level of quality that many businesses provide their customers when offering customer service. E-Commerce businesses especially have to rely on this technology, when they have customers making purchases and needing assistance from various time zones across the globe. Not only do VoIP's features allow for a more seamless experience for the customer when no one is available to pick up the phone, but they also ensure that you can have phone agents set up anywhere at any time.  
VoIP systems allow you to integrate the voice experience with other platforms, as well. For example, it allows you to build a call function into an online chat help portal, without the customer needing to explain their issue twice. This makes it less frustrating for the customer, but also easier for the employees and managers using VoIP to keep a record of what has been discussed.  
Good customer experiences are important for your business, and not to be undervalued.  
What do you need to use VoIP?  
Because there are many options for using a VoIP phone system, it is a more flexible option in terms of equipment. The most important part of utilizing VoIP effectively is a reliable internet connection with proper security to prevent hacking. Unfortunately, in areas where internet connection is unreliable or poorly serviced, this does make VoIP less accessible than landline options.  
Otherwise, there is relatively little hardware involved once you have the proper software. If you are using a computer or smartphone, you will probably want a decent quality headset with a microphone. If you want to use a traditional phone, you will need either a VoIP-specific phone, or a traditional phone set compatible with a VoIP adapter.  
Be up to date with your technology. 
Now more than ever, it's important to be current with your tech. With many day-to-day tasks being handled virtually and remotely, your landline phone system might not make the cut.