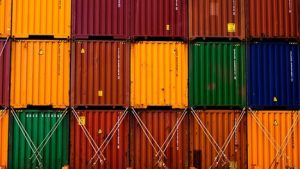 You may have seen a meme or two about the Suez Canal recently, but you may not know it was only one part of a global shipping crisis. The international economy is experiencing a shipping container shortage that is impacting businesses big and small.
As of right now, containers used to ship larger or bulk product are in high demand and low supply, sending delivery speeds and prices skyrocketing. According to German media outlet Deutsche Welle, some manufacturers shipping product out of China have seen an increase by as much as 100 percent from the beginning of 2020 to now.
Not only is there a lack of container availability, but physical space on cargo vessels is also low. This is the result of a stark increase in demand over the past year, paired with an inability of the industry to keep up. Before the pandemic, there was not a financial incentive for shipowners to grow their fleets; now they are struggling to meet the ever-increasing demand.

COVID-19 disrupted the shipping industry.
Consumer demands caused by lockdowns across the world reignited the shipping industry in a way it had not seen in over a decade. Likewise, various waves of the virus completely halted production in different regions, at different times. Shipping to and from East Asia in the beginning of 2020, causing a supply-chain imbalance that did not quite recover until August. With new waves of lockdowns, and the Ever Given incident in the Suez Canal, we are again thrown way off track.
Consumer trends during lockdowns have certainly impacted the shipping industry. The past year has seen less money spent on travel and services, and more spent on appliances, furniture, workout and sport equipment, bicycles, and other luxury items that can be enjoyed from home. These products often involve container shipping, and the increased demand has retailers stocking up warehouses pre-emptively. Fleet owners simply cannot meet these demands.
Port cities are also struggling to adjust. Balancing the consumer need with the realities of the COVID-19 pandemic proves a challenge for some of the world's biggest hubs. Los Angeles, for example, requires that inbound ships wait ten days before entering the port — which of course is extended if anyone on the crew becomes sick. These are valuable workers, ships, and containers, spending many business days quarantined. While these measures certainly protect us from spreading the virus, they have also presented a big industry problem.
How is this impacting your business?
It may seem like a faraway problem, but really, shipping fee increases are likely costing you. From slower speeds, to increased prices, many retailers and other business owners are feeling the consequences of this imbalance.
If your business is locked into a long-term shipping contract, that was signed before COVID-19, you're one of the lucky ones. For many businesses though, old contracts have not been enough to satiate new demands.
For North American exporters, shipping shortages have been an especially painful part of the pandemic. Farmers who provide staple crops to the rest of the world have found it difficult to get their product off the continent. For example, in 2020, China was the leading buyer of Canadian-grown peas. Now, farmers are finding they do not have access to shipping containers to get their product overseas.
Whether you rely on importing or exporting goods to maintain your business, chances are you've been subjected to the repercussions of the shipping crisis, either in cost or in transport delays.
A solution in sight?
Experts predict that the shipping demand is not set to ease up any time soon. Hapag Lloyd, a German-based global shipping giant, ordered six new container ships for its fleet before Christmas 2020, but does not expect to see them delivered until 2023.
Some industries, such as Canadian farmers, have begun lobbying their governments for some kind of regulation to keep them afloat in the midst of this crisis.