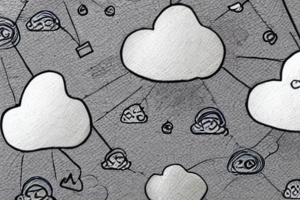 You might have heard the term "UCaaS" being thrown around lately in regards to business communications solutions. The tech world seems to offer a new host of acronyms every time you blink an eye, but UCaaS is a trend you may want to pay attention to.  
In this article, we're defining UCaaS and explaining how it can save businesses time and money.  
What is UCaaS?
In the words of Gartner, "unified communications as a service (UCaaS) is a cloud-delivered unified communications model." It offers a centralized platform through which all of an organization's crucial communications systems are hosted.  
The functions a UCaaS solution must support include: 
Voice (telephony)

 

Video (conferencing)

 

Messaging

 

Collaboration

 

The cloud

 
Depending on your business' needs, some vendors also offer solutions such as: 
Auto-attendant

 

Interactive voice response

 

Call routing

 

Customer relationship management integrations

 
How does UCaaS work?
UCaaS is entirely functional over the internet, without the need to install or purchase any additional hardware. This gives employers the freedom to hire employees to work anywhere they can access a WiFi connection; whether it be remote or hybrid workers, or employees who have to travel frequently for their job.  
When a business engages a UCaaS vendor, the vendor owns, operates, and maintains "all the contingent infrastructure, including data centers, networks, and racks." The vendor provisions and licenses their service for a recurring subscription fee – similar to a SaaS model – that is typically paid monthly. The ongoing maintenance, quality, and reliability of the UCaaS platform is in the vendor's hands.  
Why use a UCaaS solution?
At its core, the point of UCaaS is to streamline communications for increased efficiency and collaboration. It's designed to be flexible and scalable, developing alongside your business' core communications needs.  
Likewise, UCaaS is known for being an incredibly secure option for businesses, especially those who take in a lot of sensitive data. As Forbes says, "UCaaS providers also take security very seriously. This is ideal for both internal communication and protecting customer information." 
Convenience and security are great – but changing an entire system for your company can be stressful and time consuming. Is it worth it? Overall cost and time savings suggest yes.  
UCaaS reduces expenses and saves time. 
Not only does UCaaS have a very low upfront cost due to its lack of hardware installation, but other potential cost savings include: 
The use of VoIP (Voice over Internet Protocol) telephony, eliminating the need to pay for analog phone lines.

 

A fixed monthly cost, eliminating variables such as long-distance charges. 

 

The inclusion of advanced features built-in to the UCaaS platform, rather than individual add-ons.

 
Your time is as valuable as your money. UCaaS's potential time savings include: 
Eliminating IT staff hours dedicated to telephony, due to vendor support. 

 

Minimizing down time.

 

Minimizing time consuming updates. 

 
UCaaS is meant to operate so the consumer – companies and organizations of all sizes – can focus on their work, without having to stress about unreliable or expensive communications services.  
In conclusion…
UCaaS solutions bring businesses all the communications solutions they need, hosted over the cloud by a single vendor, without the need for expensive installations or upkeep. All that's needed on behalf of the organization is a steady internet connection.  
With the economy more complicated than ever, simplifying communications saves valuable time, money, and stress.