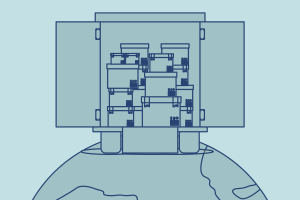 Let's face it – shipping is getting expensive at the same time as consumer pressure is rising for it to be free. Your business needs the right solutions to balance your profits and losses – and without careful optimization, shipping could be one of your biggest pain points.  
In this article, we're looking at one of the solutions that is increasing in popularity for freight 150lbs and over – Less-Than-Truckload (LTL). 
What is LTL?
When shipping ground domestic in North America, you essentially have three options: 
Small package/parcel shipping (SPS)

 

Less-Than-Truckload (LTL)

 

Full Truckload (FTL)

 
For goods under 150lbs, you are likely using SPS services, most commonly offered by providers like UPS or Fedex. FTL is for a shipment of goods that use the space of an entire truck-trailer. LTL is the balance in between; it's a solution for goods between 150-15,000lbs, that do not take up the space for an FTL shipment to be necessary.
How does it work?
Rather than paying per parcel, like in SPS, or for the full truck, like in FTL, the shipper in LTL shipments pays for the space its goods take up on the truck. The rest of the cost of the truck trailer is divided among shippers paying to have their goods transported. LTL operates on a 'hub and spoke model' where local terminals are the spokes and larger central terminals are the hubs or distribution centers.   
 Rates are typically dependent on several factors: 
Location and distance of shipment.

 

Type of goods; perishable, hazardous, or fragile materials are likely to cost more. 

 

Dimensions of goods, particularly the weight. 

 

Whether or not the shipment needs to be expedited.

 
Why choose LTL?
There are several benefits of choosing LTL as a solution. These include: 
Cost reduction – rather than paying for an unoptimized FTL load, LTL allows you to split the cost of freight, and lower your overall warehousing expenses. 

 

Increased security for your goods – since most LTL shipments are tightly packaged onto pallets before being loaded, they are often more secure in the shipping process than when using other methods. 

 

Environmental considerations – optimizing a truckload among many shippers is less wasteful than several separate shipments. 

 

Faster delivery times – instead of waiting for a full truckload to send out shipments, you can ship goods to customers much faster, improving their experience. 

 
Likewise, some providers offer additional perks for LTL customers, such as inside pickup and delivery, advanced tracking, and dedicated support and expertise from the LTL provider.  
In conclusion…
If your business regularly ships goods, and those goods weigh over 150lbs, you might be overspending if you don't have an LTL solution implemented. If you're only using FTL, and either waiting until you have a full truckload, or sending shipments in underutilized trailers, you're wasting money.