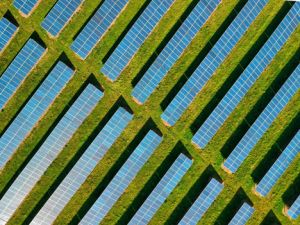 The mental image of a field full of solar panels or wind turbines might illicit a sense of optimism and forward thinking. Yet, it's harder to imagine how this technology might have any connection to your business. With a larger than ever focus on green energy, many businesses are taking a step towards introducing solar power as an energy alternative.
Solar energy continues to experience growth as an industry in 2021, making the technology more accessible than ever before to new and established businesses. Solar business owners are using platforms like YouTube, and other social medias, to market their services plethora of benefits. Among these benefits are a lower monthly utility cost, the opportunity to take advantage of government incentives regarding renewable energy, and the personal satisfaction in doing something with a positive environmental impact.
With many vendors looking for your business, it's certainly a possibility to find a solar solution for your company. So what have some other companies been doing?
Repurposing old structures for new energy in Virginia
In Virginia, the owner of a former coal plant in King George County is redeveloping the building into a solar energy storage facility. Birchwood Power Plant was in operation from 1996 to 2021, and sold power to Virginia's Dominion Energy. Now the plant is looking towards an environmentally and financially sustainable future by making the switch to solar energy, while still maintaining its work with the Virginia utility provider.
Birchwood Power Plant is not the only location in Virginia to make this change. More providers in the state are bringing solar energy to the power grid, meaning more efficient power for residents and businesses alike.
Walmart adding solar power in California
Walmart is taking the leap toward solar energy in California. Seven of its stores have installed solar panel systems on the roofs of buildings and overtop solar carports. Its systems were installed by D.C.-based company Sol Systems LLC.
A large department superstore like a Walmart in Sacramento require a lot of energy to run. More than even these Sol Systems can provide. In a hot climate location, however, the solar energy can do the heavy lifting of providing air condition and refrigeration, which are very costly functions otherwise.
Like in the case of Walmart, it might be impractical for your business to run entirely off solar energy. However, solar power solutions may have the real capacity to offset some of your most pricey energy consumption areas.
Tennessee solar farm powering Google infrastructure
In November 2020, it was announced that the Tennessee Valley Authority would build two 100-megawatt solar farms. These farms will be used to power Vanderbilt University in Nashville, and two Google data centers in Alabama and Tennessee.
While Tennessee is still a large consumer of natural gas and coal, the state has seen a lot of business turn to solar power. Volkswagen's assembly plant in Chattanooga uses a 9.5-megawatt solar farm, and Facebook, General Motors, and the Knoxville Utilities Board have also built solar infrastructure in the state.
Part of the benefit to building in Tennessee has been the Green Invest program, a state government incentive to use solar, or other renewable energy, through the Tennessee Valley Authority. Making use of the tax incentive to build the infrastructure, as well as the lower power cost afforded by solar energy, the Green Invest program has been a big cost reduction opportunity for many businesses and institutions. It has also provided great business for the solar businesses hired to do the building and installations.
Keep solar on your radar
While there has been tremendous growth in the past year with regards to solar energy, there is still a long way to go before every business sees the benefit of this technology. Looking to the future, be sure to keep solar opportunities and tax incentives in mind when looking for cost reduction and utility optimization for your business.