Renowned American orator and statesman Daniel Webster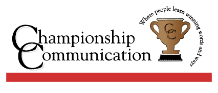 once said that "if I were to lose all of my possessions except one, I would save the power of communication, for by it I would soon regain all of the rest.
The power of communication transcends generations and cultures — from the moment human beings arrive on this earth, communication is the largest single factor determining what kinds of relationships they make with others and what happens to them in the world.
That's why Dr. Bill Lampton is committed to helping individuals and businesses develop effective and impactful communication skills and strategies through poise, power and persuasion.
From the moment he enrolled in a speech class as a student at Millsaps College, Bill became committed to studying the impact of communication on life, business and society. He saw the psychological and social impacts that persuasive communication could invoke to those hearing and listening.
"I saw, from that time onwards, that how we communicate to individuals can change the very way that they think and behave," says Bill. "And then I realized that behind every major socio-political movement in human history was a powerful communicator."
Bill earned his bachelor's in history from Millsaps before earning his Master's and Ph.D. in speech communication from Ohio University. With an extensive background as a vice-president at three colleges and a medical center, Bill developed an intimate knowledge of the impact communication has on fundraising success and donor engagement, organizational improvement and the effective development of marketing strategies. And with years of experience teaching undergraduates and graduate students at the University of Georgia, Bill correlated his corporate and academic understanding of communication to create a robust and respected philosophy on the subject.
With this background of expertise and a track record of success, Bill moved into a consulting role, helping both individuals and organizations utilize communication to drive success.
"During those twenty-two years in corporate life, I identified the major communication problems that leaders face–and learned how superb leaders resolve them," says Bill. "I knew I could utilize these insights to help my clients."
As founder and President of Championship Communication, Bill provides communication consulting and speech coaching for corporate leaders across the globe. Among his clients have been corporate leaders from Ritz-Carlton Cancun, Gillette, Duracell, Procter and Gamble, CenturyTel, Sage and several other world-renowned brands and non-profits.
On an organizational level, Bill helps his clients reduce workplace conflict by defining diverse communication styles, identifying and overcoming their major communications barriers, developing effective crisis communications plans and strategies and training customer care staff to constructively handle criticism and negative consumer feedback. And on an individual level, Bill teaches speakers how to overcome their anxiety and control their excessive stage fright while also helping business leaders to speak confidently, clearly and convincingly to key stakeholders and their own employees.
"We live in a world that is rapidly changing — in terms of technology and consumer habits — and so we must communicate more effectively than ever before," says Bill. "One bad customer review can reach tens of thousands of other consumers, and one bad crisis response can plummet your stocks and leave consumers looking elsewhere."
For Bill, communication is based on two guiding principles — caring and listening. For an organization, effective communication occurs only when the needs and desires of customers and stakeholders are heeded and considered — this builds trust and enhances organizational reputation.
Communication is, for corporations, non-profits and individuals alike, the springboard to success. Bill helps his clients use that springboard to increase sales performance, deliver memorable and insightful keynote speeches, respond appropriately to challenging crises and improve organizational processes through developing world-class communications strategies.
As the author of several books, including 25 Ways to Control Your Stage Fright and The Complete Communicator: Change Your Communication — Change your Life, Bill offers tremendous value to anyone looking to improve their relationships, business connections or networking skills through the art of communication.
In his spare time, Bill is an avid golfer and college football fan who loves rooting on the Georgia Bulldogs at Sanford Stadium.
When asked to give a word of advice to business leaders looking to improve their organization's communication skills, Bill suggests hiring an objective consultant to offer independent advice.
"Oftentimes, we need outside ears and eyes to see how our companies are really doing in the area of communication," says Bill. "That objective and independent insight can be extremely powerful in creating meaningful and effective change to how you communicate within your business."