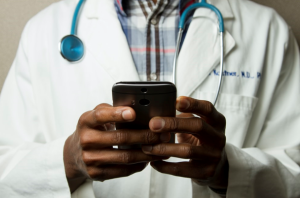 Almost everyone has had experience with telemedicine in the past few years, whether as a practitioner or  patient. This technology is lifesaving when in-person healthcare visits are not an option.
However, not every healthcare provider has tapped into the potential of telemedicine. When considering whether to implement telemedicine into your business model permanently, cost reduction opportunities should absolutely be a consideration.
Telehealth experienced a rapid boom.
Some technologies gradually evolve an industry, but due to the COVID pandemic, telemedicine services saw rapid adoption, starting 2020. Providers like Teladoc and Amwell saw their businesses roughly double from 2019 to 2020.
By 2028, the telemedicine market is projected to reach over $636 billion. As you can imagine, this trend is disrupting the traditional models of medical practices, offering both expenses and savings opportunities.
5G is making telemedicine more accessible, too.
The recent roll out of 5G networks has brought new opportunities to the already expanding industry. Marc Fischer of Dogtown Media LLC told Forbes that one of "5G's greatest potential is in enabling the Internet of Things and disrupting healthcare. For example, with IoT-connected medical devices, diagnostics and monitoring enabled by lightning-speed 5G, industries such as healthcare will take on a completely new look and feel."
Practices are looking for a hybrid model.
Business Insider spoke with many hospital and clinic administrators, who the publication reported were largely in favor of a hybrid model of practice; one that combines virtual and in-person appointments.
While for some doctors, telemedicine doesn't make sense with their specialty, many others see it being permanently integrated into their practice. Specifically, telemedicine solutions have seen widespread popularity in radiology, cardiology, online consultation, and behavioral health.
No matter how much a hospital or clinic looks to use telemedicine going forward, price is a consideration. Especially when these practices aren't always sure who will footing the bill.
Billing still isn't clear.
During the earlier days of the pandemic, many insurance companies agreed to reimburse virtual visits in the same way they would in-person services, on a temporary basis. While some countries have introduced legislation to make this more permanent, it is still not always clear if telemedicine will be deductible, and in what cases.
What is covered by insurance tends the dictate the services people use, and so reimbursements change or are cut off for telemedicine, the industry, and its huge projections, may be set back significantly.
Another setback is concern regarding fraud.
Fraud is prevalent in telemedicine.
In October of 2020, the United States Department of Justice identified a healthcare fraud scheme that included $4.5 billion of fraudulent claims made through telehealth. More recently, another $143 million was found to have been fraudulently billed, with the majority coming from telehealth providers.
According to Quartz, the majority of the scammers aren't patients or healthcare providers, but telemedicine executives.
The startling fraud statistics are part of the reason some insurance companies may be hesitant towards permanently changing their coverage to include telemedicine.
Telemedicine is good for business.
For practices looking to continue with telemedicine, if it makes sense for their patients, it could represent significant savings opportunities.
According to OrthoLive, one telemedicine provider, the cost to the provider for of a telehealth appointment is significantly reduced compared to a traditional visit. Averages suggest that:
The approximate cost of an emergency room visit is $1,734.
The approximate cost of a traditional on-site doctor visit is $146.
The approximate cost of a telehealth visit is $79.
Likewise, the University of Pittsburgh Medical Center found they save $86.84 every time a primary or urgent care visit is conducted via telehealth, rather than on-site.
No matter what you think, telehealth has operating costs.
Like anything, there are fees behind implementing and maintaining telemedicine services. OrthoLive says across the healthcare industry, depending on specialty, the devices needed to implement telehealth can range up $10,000 per site, and a few hundred dollars per month per provider.
Like other web-hosting or data storage services, practices can choose to install telemedicine hardware and software on site, or pay monthly for Software-as-a-Service (SaaS). It also necessitates a strong and reliable internet connection and, likely, a compatible phone system.
Further savings from the statistics provided above can likely be found if your business is optimizing its telecommunications costs.
In conclusion…
Healthcare providers have become increasingly reliant on telemedicine services to reach their patients. With the industry projected to grow, and the potential for business savings so significant, now is a great time for practices to look into how they can optimize their spending.