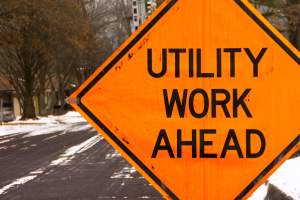 In the past few years, we've seen some long, icy winters. As we prepare for another season, you might be ahead of the game on weatherproofing your car and unpacking your winter clothes, but don't forget to prepare your business' utility infrastructure as well.
In this article, we look at the impact of harsh winter weather on utilities, and how your business can prepare itself and prevent costly damage.
Utilities are at an extra risk during inclement weather.
As you've surely experienced at some point, utility companies are often hit hard during extreme weather events. While we often think of hurricanes or wildfires, this includes ice storms and blizzards too.
For example, when an unexpected winter storm hit Texas in February of 2021, power producers lost more than $10 billion in profits.
Events like these have caused governments and utility providers alike to rethink infrastructure, and how it stands up to extreme weather events. If your business operates out of regions that are at risk of being hit by a winter storm, it's worth considering how your onsite and offsite infrastructure might be impacted as well.
Be prepared for damage to local powerlines.
Even in regular snow conditions, powerlines can be at risk. Heavy buildups of snow and ice can bring down branches – or in some cases, entire trees – onto powerlines, causing outages and hazardous conditions on your business' property.
If you have trees and powerlines on your property, be sure they receive the required maintenance to prevent this damage. In most cases, local authorities can be called to come trim branches away from overhead lines.
No matter how prepared you are, the damage may be out of your control. Powerlines may go down offsite that impact your location.
If it's within your means, consider investing in a generator to prevent downtime and keep employees and customers safe.
Don't let your meters get buried in snow.
Another risk to regions with heavy snowfall is utility meters becoming covered by snow. Most meters are designed to withstand inclement weather, including snow. However, certain precautions should be taken.
If you have any kind of outdoor meters on your business property you're responsible for, it's very important they do not become buried by snow. Here are some safety tips for your meters this winter:
Ensure whoever is responsible for clearing your snow – whether it be staff or a hired service – is not shoveling or plowing snow up against your meters.
Do not kick or hit the meters or meter piping to clear it of ice or snow; instead, use a broom to lightly brush snow off, or contact your utility provider.
Clear external pipes of excess snow, as this places stress on your meter piping and can cause a gas leak.
Identify your meters' pressure relief vent and keep each one clear of snow and debris. Your utility provider can assist you with locating this.
Keep any external vent pipes of furnaces, fireplaces, water heaters and clothes dryers clear as well.
Prevent pipe freezing.
A frozen or burst pipe could do a lot of damage to your business, and potentially be very costly, or cause unwanted downtime. In fact, it's reported that frozen pipes are the highest cause of property damage during cold weather months.
Pipes in out of the way or unheated areas are the most at risk for freezing. For your business, this could mean:
Crawl spaces
Closets
Enclosed spaces, like a loft or roof space
Warehouses
Storage areas
Likewise, if you have fire protection sprinklers installed, it's critical to ensure they are kept sufficiently heated to prevent freezing. Not only could a burst pipe in your roof be a nightmare for business, but your business' safety is dependent on them operating reliably.
If your business is responsible for its own plumbing infrastructure – rather than a landlord or property manager – it's prudent to take precautions to prevent freezing. Some solutions include:
Properly insulating pipes located in exterior walls or unheated spaces.
Draining any piping not required during the winter months.
Maintaining a minimum temperature of 40° F/4.4° C in areas susceptible to freezing or where fire protection sprinklers are involved.
Using temperature monitoring solutions to ensure rooms are being properly heated.
Consider keeping emergency items onsite.
Especially if you're in a more isolated location, it's important to be prepared to protect yourself and your staff should there be an outage.
Consider keeping the following emergency items on location:
Road salt or sand.
Portable heaters.
Heating blankets.
Extra non-perishable food and water.
Don't let your winter utility bill break the bank.
Even without damage or outages costing you, it's common to see your utility bills rise in the winter months. At this time, heating can represent around 40% of your bill.
Especially if your building is heated with natural gas, you may see a huge price jump during the winter. As Energy explains:
"As natural gas prices skyrocket and oil costs increase by the barrel, utility companies have no choice but to raise rates. This creates an issue for paying customers, especially when winter weather calls for 24-hour [heating] via propane furnaces and electric heat."
While you can certainly change habits and adapt your usage to the rates, we also recommend having a professional audit of your utility expenses to ensure your rates are competitive and that you have not incurred any billing errors.
In conclusion…
Winter weather, especially extreme winter weather, has the potential to impact your business utilities' service and cost. Be prepared and don't let a heavy snow break the bank.
Related articles: