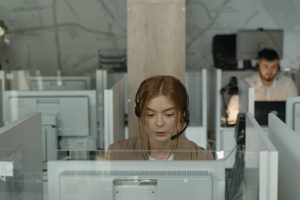 Voice over Internet Protocol (VoIP) helps businesses across the world better manage phone systems which need a growing number of lines, virtual solutions, worldwide capacity, and more. In comparison to traditional analog phone systems, VoIP phone systems tend to have lower costs and higher reliability.  
For these reasons, VoIP is becoming increasingly popular with businesses. This trend isn't slowing down in 2022; in fact, it's picking up speed. In this article, we look at the future of VoIP technology, and what you can expect to see from providers this year.  
The industry is growing.  
With the digitization of communication still going strong, the VoIP industry is seeing the benefits. One provider, RingCentral, reported its subscription revenue grew 34% since pre-pandemic sales. Experts predict the industry will grow by at least 55 billion USD by 2025. This is due in part to the technology's large expansion into previously untapped markets.  
For years, specialized business phone systems were used mainly by larger enterprises with hundreds of employees. Nowadays, the cost and customizability of VoIP has made it accessible to all businesses, whether you're an office that needs a few phone lines or a call center requiring hundreds.  
The VoIP industry's growth will include exciting new trends that take the convenience and mobility of this tech forward into a new era.  
VoIP is part of the rise of UCaaS.  
In 2022, we will likely see VoIP expanding as one part of a larger Unified Communications as a Service (UCaaS) product. UCaaS platforms offer services like VoIP along with a suite of other cloud-hosted communication services, such as video/web conferencing, instant messaging, faxing services, and collaboration tools.  
As TrustRadius explains, "one large benefit UCaaS brings is the ability to centralize virtually all online communication within one platform. Rather than having to purchase a separate video conferencing tool, instant messaging application, and voice solution, companies can invest in one product that has it all." 
One of the trends that will continue to grow in 2022 with UCaaS is integrated communications apps, which host all the communications tools, including VoIP, from a single application. This prevents the frustration of having to switch between multiple apps or overload your devices with several different communications software running.  
As UCaaS continues to save enterprises time, money, and hassle, VoIP will continue to grow alongside it.  
5G capability will expand VoIP's accessibility.  
With the number of 5G compatible devices being sold on the rise in North America, VoIP systems will inevitably be impacted.  
5G compatibility for devices with a VoIP phone installed could potentially solve two of the biggest concerns that hold some back from making the transition from traditional phone systems: 
Call latency leading to dropped calls.

 

Quality of service on 4G networks. 

 
While VoIP is an improvement on traditional phone systems in a lot of ways, we all know internet connectivity can be spotty, especially in high traffic environments. Luckily, 5G promises significant improvements. While VoIP services on 4G networks can take 10 milliseconds to connect to a network, creating some latency, 5G is reported to speed this up to less than one millisecond.  
Likewise, because of the capabilities of newer devices and stronger networks, many VoIP providers now support applications on iOS and Android, alongside the typically desktop/softphone solutions. This has huge benefits for companies with remote or travelling workers.  
VoIP will be integrated with AI.  
In 2022 and onwards, we will see increasing integration of VoIP with AI customer service technology. 
With AI's propensity for analysis, automation, and convenience, the combination of AI and VoIP will seriously change the way many businesses do customer service. It enables companies to: 
Set up advanced call routing.

 

Use auto attendants to handle incoming calls. 

 
Speed up communications for customer service lines and reduce wait/hold times.

 

Create smarter digital assistants that will conduct real-time analysis that gathers a customer's emotional state and other information. 

 

Use Natural Language Processing (NLP) tech to translate voice or video calls in real time. 

 

Prevent fraud for

businesses of all sizes

. 

 
The potential benefits of this technology are endless and will result in quicker interactions and less customer frustration.  
VoIP and CRM integration.  
Some companies have already made the smart move of integrating their VoIP solutions with their CRM data. Going forward, this will become increasingly standard practice.  
When VoIP and CRM are integrated, whenever a known customer or client number calls, the system automatically loads all their information, saving time and confusion on both ends of the interaction. In sensitive industries, such as banking, this can also prevent mistakes and data breaches from happening.  
The Education Industry is tapped for VoIP adoption.  
While enterprises were early adopters of VoIP across industries, 2022 is looking to be a big year for VoIP and UCaaS integration within the education world.  
The rise of remote learning has created a need for virtual communication platforms that are accessible to teachers, staff, and students alike.  
A good UCaaS system would provide a host of benefits to a school doing in person, remote, or hybrid teaching. This includes: 
Adding supplemental learning sessions, enrichment classes, labs, and more virtually. 

 

Offer tutoring to the curriculum hosted online. 

 

Allow staff, students, and parents to request equipment, forms, books, and more in an automated, trackable way. 

 
Allows teachers to send bulk emails, announcements, and voice messages to students.

 
While post-secondary institutions are leading the adoption of this tech, it seems that UCaaS is the future of education across the board.  
In conclusion… 
2022 is projected to be a great year for business phone system providers, whether that be just VoIP or UCaaS as a whole. Global circumstances, tech advancements, and more have created the perfect environment for the rapid growth of virtual communications solutions, which means a lot more opportunities for businesses to find services that fit their needs.