Schooley Mitchell consultant Axel Nafthal was recently featured in his local paper, the Annapolis Valley Wire. For the full publication, read here.

Helping companies save money
Schooley Mitchell identifies ways to cut business costs.
by Joey Fitzpatrick
When asked what he does for a living, Axel Nafthal has a very clear and positive elevator pitch.
"I deliver good news to my clients," he says.
Just as consumers often pay more than is necessary for telecom and other services, so too do businesses. Natfhal works with companies to identify potential areas of savings in the various costs of doing business.
His lengthy career in the food industry prepared Nafthal with the skills of negotiating beneficial terms on behalf of clients. Nafthal worked with food manufacturers, and then later as a broker, negotiating promotional deals between manufacturers and grocery retailers.
"It's a very competitive and challenging business," he says of the food sector. "It was fun, but I was not sorry to see that part of my career come to a close."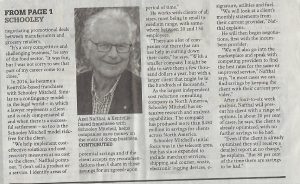 In 2016, he became a Kentville-based franchisee with Schooley Mitchell. Similar to a contingency model in the legal world – in which a lawyer represents a client and is only compensated if and when there is a successful settlement – so too is the Schooley Mitchell Model risk-free for the client.
"We help implement cost-effective solutions and cost recovery measures at no cost to the client," Nafthal points out. "I don't sell a product or service. I identify areas of potential savings and if the client accepts my recommendations then I share in those savings for an agreed-upon period of time."
He works with clients of all sizes, most being in small to medium range, with somewhere between 20 and 150 employees.
"There are a lot of companies out there that can use help in cutting down their costs," he says. "With a smaller company I might be able to save them a few thousand dollars a year, but with a larger client that might in the hundreds of thousands."
As the largest independent cost reduction consulting company in North America, Schooley Mitchell has extensive research and analysis capabilities. The company has produced more than $450 million in savings for clients across North America.
Schooley Mitchell's initial focus was in the telecom area, but has since expanded to include merchant services, shipping and courier, waste, electronic logging devices, eSignature, utilities, and fuel.
"We will look at a client's monthly statements from their current provider," Nafthal explains.
He will then begin negotiations, first with the incumbent provider.
"We will also go into the marketplace and speak with competing providers to find the best rates for the same or improved service," Nafthal says. "In most cases, we can find savings by keeping the client with their current provider."
After a four-to-six week analysis, Nafthal will present his client with a range of options. In about 20 percent of cases, he says, the client is already optimized, with no further savings to be had.
"Even if the client is already optimized they still receive a detailed report at no charge," he explains. "But 80 percent of the time there are savings to be had."
View article as PDF.