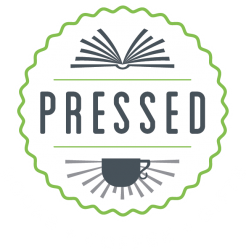 To Whom It May Concern:
This past week I stopped in to Pressed Books to meet with a colleague and my only disappointment is that I hadn't stopped in there before! I was blown away by the variety of books, the quality of my order, and the overall atmosphere. Places like Pressed just don't seem to exist anymore!
Pressed Books is a bookstore, gift shop and full-service coffee shop located in Greengarden Place across from Frontier Park in Erie, PA. They offer an incredibly diverse selection of books – from fantasy to philosophy – as well as a great selection of gifts from both national brands and local sellers. The coffee shop allows you to pair delicious drink selections with local, fresh baked goods. And the seating allows for a mix of customers – from single customers sipping by themselves to groups of friends or colleagues catching up at a table.
Upon entering Pressed, I was immediately enamoured with the charm it exudes. It was extremely clean and organized and radiates a very welcoming atmosphere.  As I made my way from the bookstore to the coffee shop, I was pleasantly greeted by the barista that treated me more like an old friend than a customer. Though they were busy, I was able to find a table, meet a colleague and conduct a very professional meeting.
At Schooley Mitchell we spend a lot of time in coffee shops getting to know other business leaders. Pressed really provided a unique experience for me because of the service and the atmosphere.
From coffee meetings for business leaders, to Erieites looking for a delicious drink, to tourists searching for that unique experience – I highly recommend you stop in to Pressed Books for at least one visit – it most likely won't be your last!
Yours truly,
Adam Baker
Schooley Mitchell