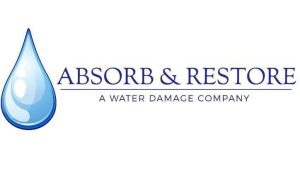 To Whom It May Concern:
In Erie, PA, you fall in to one of two groups – those that have had their basement flooded, or those that are waiting for their basement to flood!  Recently, I moved in to the "had their basement flooded" group, and if weren't for the amazing water damage team at Absorb & Restore, it could have been a terrible, costly experience.
Absorb & Restore is a local, veteran owned and operated, water damage company in Erie, PA and provides prompt, compassionate, and professional service. Working in both homes and businesses, Absorb & Restore handles roof leaks, pipe breaks, sewer/drain backups, and mold remediation.   Answering the call 24/7, owner Zack Kavchak and his team truly understand the emotions and concerns of their client and are there for them during their client's time of disaster.
When I reached out to Zack, it was during a snow melt / rain event and he was extremely busy.  He told me he could get to my house around 3 pm, and he was there just as he said he would be.  He assessed the damage and explained his plan to me. Immediately, he and his team got to work and they came back every day (even on the weekends) to check the status of the carpet and walls and move the blowers to ensure the basement was drying properly.
Here is what I love about Absorb & Restore's service. Unlike most water damage companies, Absorb & Restore doesn't double as a construction contractor.  This is an important detail because Zack and his team were focused on saving as much of my carpet and walls as they safely can.  Where other "restoration" companies benefit from damage because clients will most likely hire them to replace it, Absorb & Restore doesn't operate that way. They truly have your best interest at heart when they begin their restoration.  Zack and his team were able to salvage EVERYTHING for me.  When they say their values are "Integrity First", they truly mean it.
While no one wants a flooded basement, I'm grateful that I knew to call Zack and his team at Absorb & Restore to handle my crisis.  If you're a new member of the "had their basement flooded" group in Erie, PA – call Absorb & Restore.  If you are in the "waiting for the basement to flood" group, hold on to Zack's number – one day you'll need it and you'll be grateful you had it; I was!
Yours truly,
Adam Baker
Schooley Mitchell